Looking forward to #FOSDEM2023
Table of Contents
With FOSDEM, a free event for software developers to meet, share ideas and collaborate in Brussels, Belgium, approaching (it's this weekend, 4 & 5 February 2023), let's have a little preview on the talks that are particularly exciting for #linuxmobile.
Just like last year, where FOSDEM was happening virtually, there's a specific room for the topic this blog is mostly about.
All talks of the track happen in Room UB 4.136 on Saturday, February 4th from 10:30 to 14:30. Every talk in this track is 15 to 25 minutes long.
Make sure to check the Talk pages for links to chat rooms (Matrix) and live streams!
Lomiri Mobile Linux in Desktop mode by Alfred Neumayer (10:30)
Convergence on Ubuntu Touch is definitely interesting, and a lot of work went into this since UBports took over from Canonical. Not having tried Convergence with Ubuntu Touch in years (I think I tried on a Nexus 4 (?) using a Slimport adapter years ago), I am quite excited in getting a demo and a deep dive into what changed since.
Alfred arrived about 3 minutes before the talk started - and used the Fairphone 4 with Ubuntu Touch to do the presentation. Absolutely amazing!
Sharp photos and short movies on a mobile phone by Pavel Machek (11:00)
You may recall my toots about Librem 5 camera improvements, and Pavel Machek contributed to this in a major way. Aside from the Librem 5, the work on PinePhone 2MP 30FPS video recording is definitely interesting.
Great, really fun talk on the difficulties of getting usable images out of a sensor. Must watch!
Mainline Linux on recent Qualcomm SoCs: Fairphone 4 by Luca Weiss (11:30)
15 minutes of porting mainline to the Snapdragon 750G based, 5G Fairphone 4.
Mainlining is quite the endeavour. Listen to this, if you think 'it can't be that hard'.
Mobian: to stable ... and beyond! by Arnaud Ferraris (11:50)
Mobian will move to stable after the release of Debian 12 Bookworm - thrilled to hear about the details!
Moving to stable is going to be great for users!
What's new in the world of phosh? by Evangelos Ribeiro Tzaras (12:10)
A lot happened since February 2022 :)
Nice talk about all the improvements implemented.
Ondev2: Distro-Independent Installer For Linux Mobile by Oliver Smith (12:30)
Ollie (of postmarketOS fame) told me about this a while back, but I have not seen it yet! (If you're impatient and can't wait until tomorrow: Source code)
It's going to be a lot better than the current solution, awesome!
Sailing into the Linux port with Sony Open Devices by Björn Bidar (12:50)
Porting SailfishOS to Sony devices.
Sony Open Devices offers a middle-ground between being stuck on a vendor kernel forever and mainlining.
Writing a convergent application in 2023 with Kirigami by Carl Schwan (13:10)
Quite a task for 25 minutes!
Good explainer on Kirigami!
Can Genode on the PinePhone question the notion of a smartphone? by Norman Feske (13:40)
Not Linux, but I really look forward to this!
This was really impressive. Make sure to try it yourself, if you own a 3GB PinePhone.
Where do we go from here? by Clayton Craft (14:10)
Lately, I have adopted a slightly bleak outlook on the future of Linux on Mobile - I hope Clayton can change my mind!
Nice closing talk! Let's hope we manage to collectively find ways to reduce duplicate efforts and manage to work towards better usability together.
Convergent camera applications for mobile Linux devices by Kieran Bingham (13:30)
libcamera on the PinePhone Pro, whoohoo! Totally exciting, but I definitely won't make it, since I'll just stick to the track above.
Advanced Camera Support on Allwinner SoCs with Mainline Linux by Paul Kocialkowski (14:00)
Might be interesting if you are considering further PinePhone or PineCube development.
Bluetooth state in PipeWire and WirePlumber by Frédéric Danis (17:05)
Implementing VoLTE support for FOSS on mobile devices, by Marius Gripsgard (18:00)
Other talks (Saturday, February 4th)
Modern Camera Handling in Chromium by Michael Olbrich (Saturday, 11:30)
Other talks (Sundey, February 5th)
(Keynote) What could go wrong? Me, I was by Richard Brown (9:00)
Subtitle: Containerised Applications are the way
Of course, there's a lot more, make sure to browse the full schedule on the Web or in an app like Kongress or Confy.
Did I miss a relevant talk? Please get in touch and educate me :D
Stands
Now let's continue with what's mostly interesting for those who can make it to Brussels like me. Stands, where projects can showcase their stuff!
Linux on Mobile (Sailfish OS, Ubuntu Touch, postmarketOS, Mobian and more) was supposed to be in building H on Level 1, but I've been told actually is in building K on level 2. I may hang out there a lot.

PINE64 is in building AW on Level 1 (with Manjaro) I'll certainly visit to catch a glimpse at PineTab2.
And that brings me to the important point: The hallway track, talking to people - that's what makes this better than a virtual conference.
Let's meet and get a sticker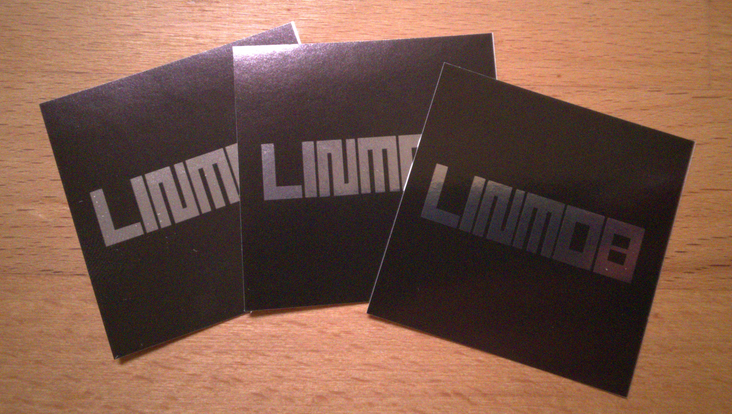 I'll be there, and I somehow managed to get some stickers printed, which I'll happily hand out :D